Please share if you find this article interesting.
Here's How Shorts Could Push Bitcoin Price Above $6,000
The bitcoin price formed a new 2019 high towards $5,590 this Tuesday and its likelihood of testing $6,000 to the upside has increased.Mr. Anderson, a cryptocurrency analyst, revealed the proximity between the bitcoin price and the BTC shorts behavior in his BTC Shorts vs. Bitcoin Price | Source: Mr. AndersonThe chart above provides six separate instances in which the bitcoin price starts rising after every overbought correction in bitcoin shorts. Bitcoin shorts considered overbought when its Relative Strength Index (RSI), a momentum indicator, closes above 70. The last time the BTC Shorts RSI hit over 70 was in December 2018.As it corrected lower, the bitcoin price surged from $3,151 to $4,300. In another instance, which took place during August-September trading session, a BTC Shorts RSI correction to the downside led a 20 percent BTC surge.A short position typically signifies the investors' bearish sentiment for the underlying asset. A trader borrows the asset and sells it at a higher rate. Later, s/he speculates the asset's price to fall so s/he could purchase it at a lower rate and return the equal amount of assets he/she borrowed back to his/her lender.Therefore, the trader profits from the "short sale" of the asset. However, if the asset price gains instead of falling, the trader loses money, for s/he purchases the asset at a higher rate to return it to his/her lender.$BTC Bears Beware?My style is simple. Play the higher probabilities and accept the resultsThe Bears have been throwing supply on the market & we can think of reasons why this could seem logicalHowever, they must be careful as they are nearing a DANGEROUS situation pic.twitter.com/nsAyewQI8t— Mr. Anderson (@TrueCrypto28) April 22, 2019"Our data is limited," wrote Mr. Anderson. "However, every time we have seen SHORTS hit a 70-plus RSI on the daily scale, BEARS got cooked. We are not there yet, but BEARS should be quite careful."Bitcoin to $6,000?The earlier Bitcoin Shorts corrections led to a bitcoin price surge amounting to as little as 8 percent. At the current $5,500 price support, a minimum 8 percent jump to the upside could quickly push BTC to $5,940. That would certainly increase the coin's probability of hitting $6,000, which was a crucial support level before the Bitcoin Cash hard fork fiasco had it broken.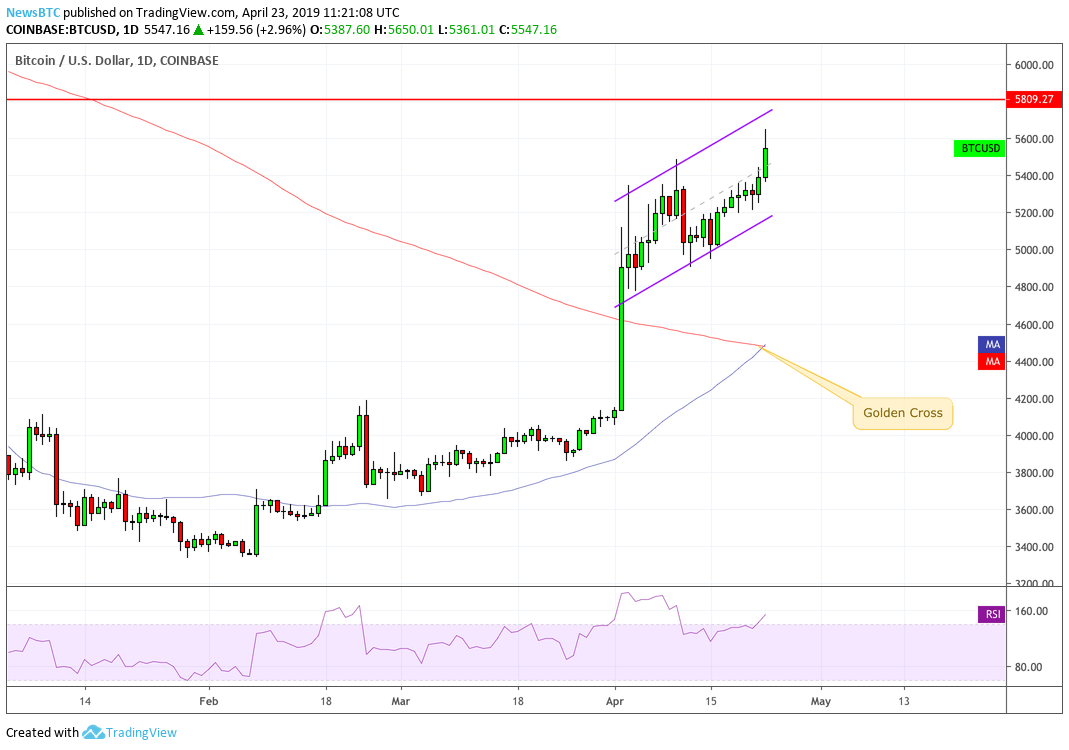 Bitcoin Bulls | Source: TradingView.comThe technical factors outside the scope of overbought Bitcoin Shorts are also pointing to a higher BTC price. After weeks of speculation, BTC's 50-days moving average (blue) crossed above its 200-days moving average (red). Though NewsBTC has earlier explained why a Golden Cross is not always a bullish indicator, the pattern nevertheless remains a strong reason for bitcoin traders to hold their long positions.As of now, the bitcoin price needs to break above $5,800 to signal an upside continuation. Couple that with RSI correction in BTC Shorts and the market might be in a for a BTC price rally towards $6,000 – at last.
Author: Davit Babayan
Found this article interesting? Kindly share it on Social Media.
Comments