Please share if you find this article interesting.
Ethereum Breached Crucial Resistance, Setting the Stage for a 15-20% Rally: Analyst
It's been a rocky past few days for Bitcoin, Ethereum, and other top cryptocurrencies. From the monthly highs against the dollar, most digital assets are down 10%.But when measuring the performance of some cryptocurrencies against Bitcoin, some investments are outperforming. Ethereum is a perfect case in point, which has rallied 10% against BTC over the past nine days.Chart from TradingView.com of ETHBTC's price action over the past few weeks. The trading pair is up 10% in the past nine days or so.Analysts say this is a precursor is a performance to even greater gains, though there still exists a risk of a medium to a long-term decline in the broader altcoin market, which would likely threaten ETH.Ethereum Poised to Rally Against Bitcoin, Analysts SayLuke "Venture Coinist" Martin — a prominent cryptocurrency trader and podcaster — suggested this week that ETHBTC is subject to rally even further in the coming days.He shared the chart below, which indicates that amid the recent breakout, Ethereum moved above a crucial resistance level that has historically led to 15-20% gains:"ETH rising through a key level today. The previous breakouts at this level led to another +15-20% in the subsequent weeks."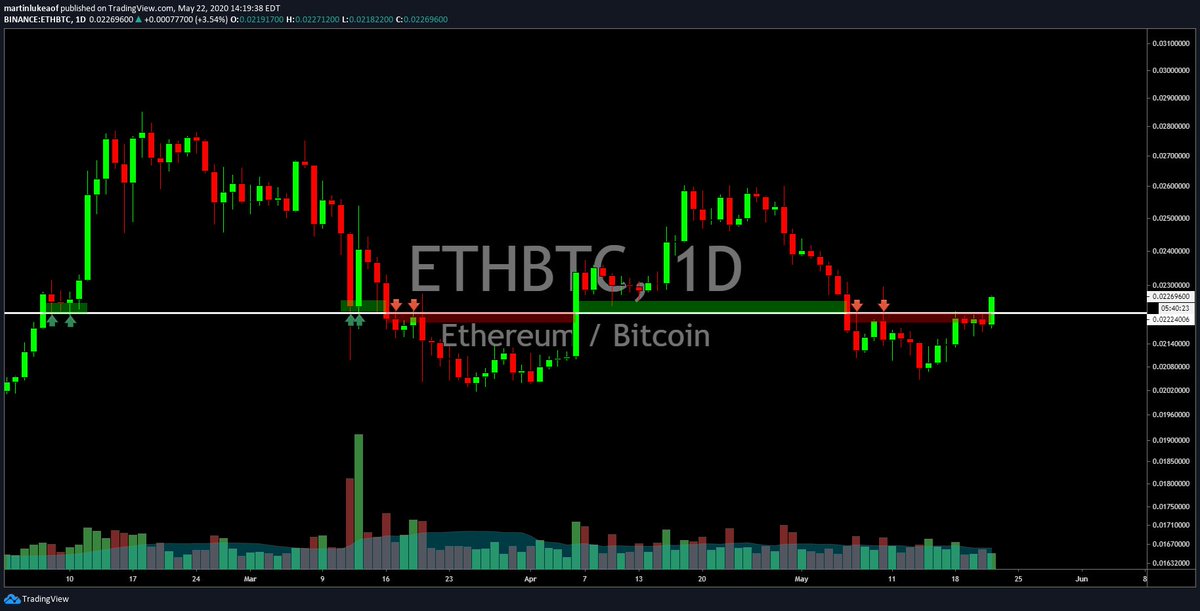 Chart of ETHBTC price over the past few months from crypto trader Luke Martin (handle of @VentureCoinist on Twitter).Martin's optimism on the trading pair was echoed by Chris Burniske, a partner at Placeholder Capital who recently wrote:"I wouldn't want to be short ETHBTC either."The cryptocurrency could also be buoyed fundamentally by the news that the Winklevoss Twins — Tyler and Cameron Winklevoss — have thrown potentially hundreds of millions of dollars at supporting Ethereum. Twin Cameron said to former Bloomberg journalist Camila Russo in a recent interview:"We definitely own a lot of ether. They're large and it's a material amount. Yeah, quite large […] A couple of years back we made a concerted effort to buy a lot of ether."It's Only Going to Be TemporaryWhile the technicals may be in the court of Ethereum bulls, that's not to say that it will outperform Bitcoin forever.Kelvin "Spartan Black" Koh of The Spartan Group — a crypto-asset investment firm based in Hong Kong and Singapore — recently said that he's currently hesitant to believe ETH will outperform Bitcoin due to "considerable uncertainty" regarding the Ethereum 2.0 upgrade:"We are observing the ETH2.0 transition closely to understand the crypto economic implications and impact on ETH price. At some point, we may turn more bullish on ETH. It is a big event but at the moment there is considerable uncertainty."The skepticism about ETH's fundamentals as an investment was echoed by chief investment officer of Arca, Jeff Dorman, who shared that the fact that all altcoins fell last week is a sign that "most digital assets are not necessary to own."Featured Image from Shutterstock
Author: Nick Chong
Found this article interesting? Kindly share it on Social Media.
Comments