The Berwick Champagne curse has been broken.
Every time in the past I posted a photo of me with a champagne bottle after bitcoin had hit a new all-time high, it "crashed". Or, at least it went down quite a bit before quickly retaking new highs.
Not this time, though! Shortly after posting that bitcoin had surged through $5,000 yesterday it continued on to hit a high over $5,700.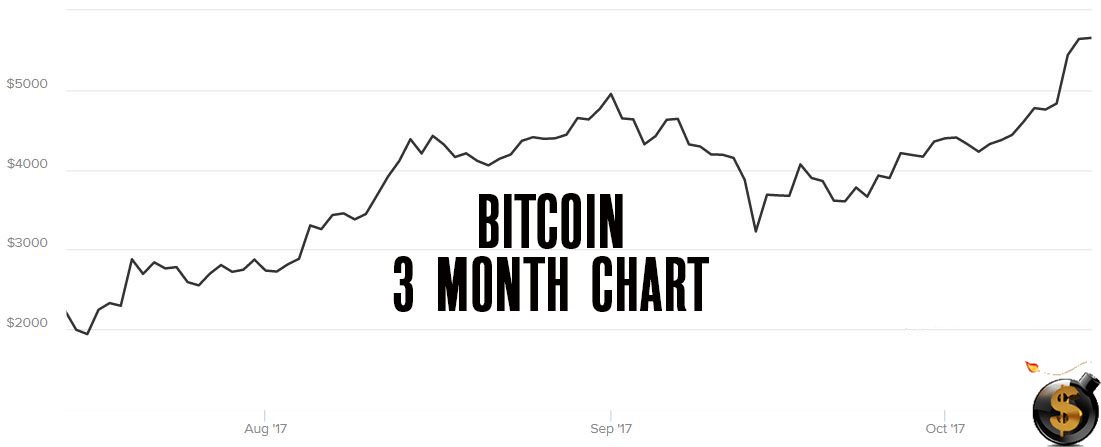 Combined with Bitcoin Cash, which I swear I'll stop mentioning soon, it reached a total high of over $6,000 for those holding bitcoin since August 1st, when it was at $2,700.Meanwhile, Jamie Demon of JPMorgan, who said he'd never talk about bitcoin again only a day ago had more to say on it today! A lot!
According to Zero Hedge, these were today's comments from Jamie Demon:
"PEOPLE WHO PURCHASE BITCOIN ARE STUPID"
"WHO CARES ABOUT BITCOIN?"
"I DON'T UNDERSTAND THE VALUE OF SOMETHING WITHOUT VALUE"
"I COULD CARE LESS ABOUT BITCOIN"
"BITCOIN IS 'A GREAT PRODUCT' IF YOU ARE A CRIMINAL"
After that diatribe he finished with another one of his empty promises, "This is the last time I talk about bitcoin."
I guarantee it won't be the last time he talks about bitcoin. As JPMorgan is closing its doors in a few years after having missed the biggest evolution in money and banking in human history, he'll be sure to at least mutter, under his breath, "I hate bitcoin."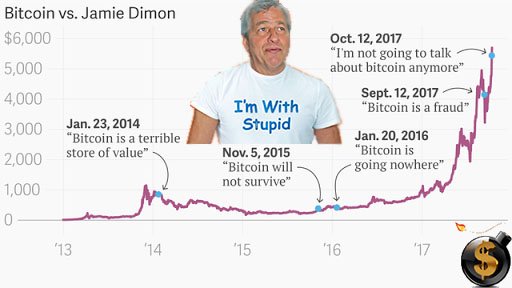 No wonder he hates it so much. Bitcoin is closing in on a $100 billion market capitalization now meaning it has just surpassed Morgan Stanley's $88 billion market cap.It just surpassed Goldman Sachs too for that matter.
Not that it matters too much, as both Morgan Stanley and Goldman Sachs are fraudulent businesses that are involved in money laundering and terrorist financing with their connections to the US government.
Plus their business model is dead. You'd have to be stupid to buy those stocks.
With bitcoin again at new all-time highs, we are extending our special offer for 10% off the TDV newsletter (which you can get here). The next issue is coming out this weekend with crucial information on how to prepare for the next wave of bitcoin forks as well as a special interview with Dan Larimer of EOS where I re-assert that I believe it will be a serious competitor to Ethereum and why I think it is an incredible bargain at this moment in time.
For those in Texas, I'll be speaking at the Texas Bitcoin Conference in Austin two weeks from now. You can get a special discount by using the code "Anarchast" on their website.
And I'll be going straight from there to Portugal where I'll be speaking at Steemfest from November 1st to 5th. Steemfest is Steemit's annual event. TDV is still the most followed user on Steemit where we post all of TDV's content first (even before our own website) and we're still incredibly excited about the future of Steem.
Busy, busy. Lots to do as we continue to rid the world of governments, central banks and crony capitalists like Jamie Demon and make a fortune doing it.
Comments